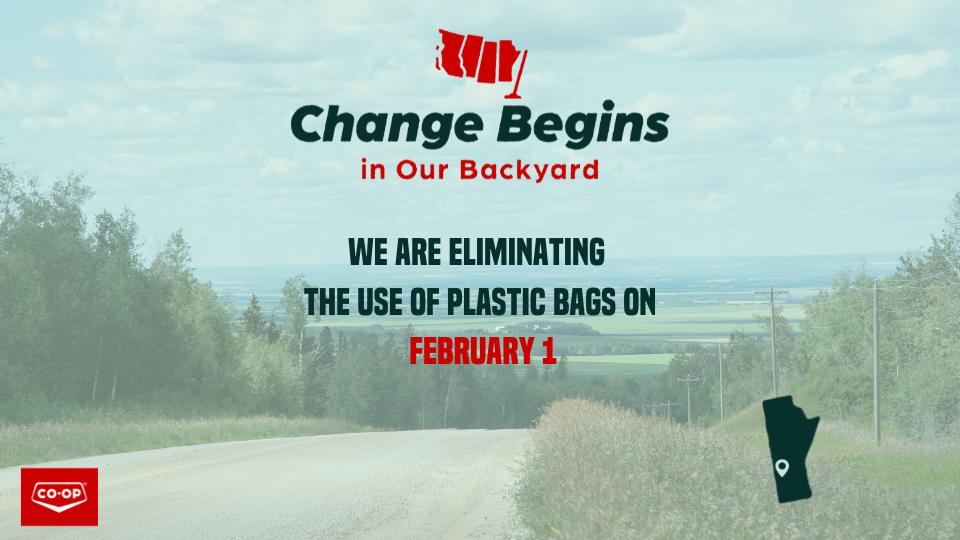 Plastic Bag Elimination
December 29, 2022
Beginning February 1, 2023, we will be eliminating single-use plastic bags from the checkouts at all of our Swan Valley Co-op locations. We are taking steps to reduce the use of plastic and this is one way we will be doing so. By making this change, we will save 720,000 bags from entering our backyard each year.
Why are we doing this now?

Sustainability is a key element of Co-op and our future. We want to sustain our communities for generations to come. We are taking this proactive step as the sale of single-use bags will be prohibited in Canada as of December 20, 2023.
What other options do you have?
We encourage you to bring your own bags/boxes or totes from home. Just don't forget them in your vehicle! Or we have a number of options for sale including:
Re-usable bags and totes from 33¢ — $8.99
Red plastic totes for $6.99
We will not be offering boxes or paper bags for use.
What about your produce?
At this time we will continue to offer plastic bags for your produce but encourage you to switch to our mesh produce bags.
How about raw meat?
We recommend you use a separate washable bag or tote for your meat. Let our team know that you'd like to have your meat packed separately from your other groceries.

What will happen with your Click & Collect or delivery order?
We will be offering a deposit program with the red plastic totes. Your groceries will be packed in the appropriate number of red totes for delivery to your vehicle or home. You will be charged a $5 deposit per tote which will be refunded upon return.

We thank you for your assistance as we make this transition.
Discover more: