Emergency Protocol Training at Swan Valley Co-op
Actions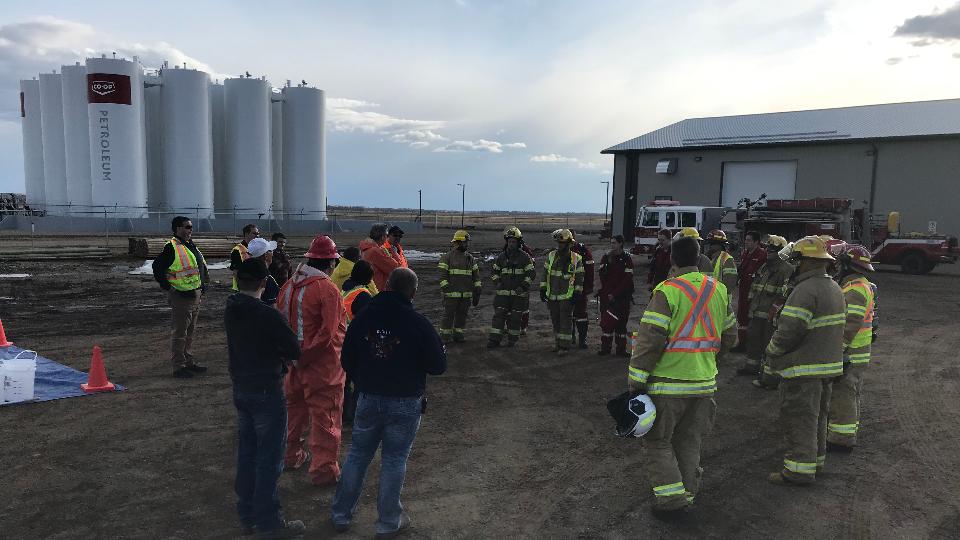 Emergency Protocol Training at Swan Valley Co-op
June 28, 2019
April 17, 2019

Swan Valley Consumers Coop hosted a day long training exercise that was held at the Swan Valley Coop Agro site 8 km south of Swan River on highway 83. We welcomed members from the Swan Valley and Benito Fire Departments as well as Team Members from the Dauphin Coop, Federated Coop and Manitoba Sustainable Development. This event was planned with the purpose of providing pertinent safety and health information with respect to the emergency protocols for Anhydrous Ammonia.
We see NH3 used in agricultural applications in western Canada on an ongoing basis, however there are times when incidents may occur that require firsthand knowledge and training to minimize risk to the public and the environment.
The training was provided by FCL instructors Mark Coppicus and Darren Cameron who are both recognized as experts in NH3. This exercise was a year in the planning as it requires detailed coordination from all parties involved and we were very encouraged throughout the process with the way the event came together.
A day of theory was provided involving information on the chemical properties, manufacturing process, product vessel criteria as well as TDG and WHMIS. An important aspect of the session was to have all participants attend the Agro site for a tour prior to any physical exercises. The purpose of this was to understand the "incident scene" and prepare for a response. This included assessment of the different vessels that would haul product, site mapping and how the emergency response trailer as well as the required zones would be set up.
It must be noted that the Swan Valley Coop is fortunate to have a dedicated emergency response team and trailer that allows us to successfully address most situations.
This was followed up with late afternoon SCBA recertification and preparation for a live exercise that would include valve stabs and bonnet repairs. The site was prepared so that two emergency trailers could provide the necessary equipment and service the needs of the team.
The Swan Valley Fire Department also provided support with a command unit and their pumper. Zones were established for hazard control which allows for a staging area to dress and undress the response teams as well as a decontamination zone for those returning from the live release area. Incident scene command was established and managed by the Swan Valley Fire Department, and at 6:30 pm the live exercises commenced with the Instructors preparing the group with critical safety information. From that point, multiple teams were dressed in their suits and SCBA and taken two at a time into the hot zone to participate.
It should be noted that prior to an exercise such as this, the town of Swan River, residents within 2 miles of the site, Local RM's, WS&H as well as Manitoba Sustainable Development were notified that a live release would be taking place. This is a critical aspect of the process which then ensures that there is no confusion or concerns resulting from the event.
During the exercise each response team had the opportunity to assess the necessary hazard, repair it and then go through decontamination which included high volumes of air to remove residue, brushing and if necessary, the use of water.
The exercise ended at 9:30 pm with all participants gathering to debrief and share information they felt was pertinent to the activity. Overall the full day of training and exercises was a success with a great deal of knowledge being shared amongst the group and ultimately an opportunity to learn firsthand how to address a situation, should it arise.
The Swan Valley Coop would like to extend our gratitude to everyone who assisted in making this a successful training event. This includes all who attended and participated as well as the Instructors who provided a wealth of practical information and an opportunity to use it.
Discover more: