A Community Spaces 2019 Recipient
Actions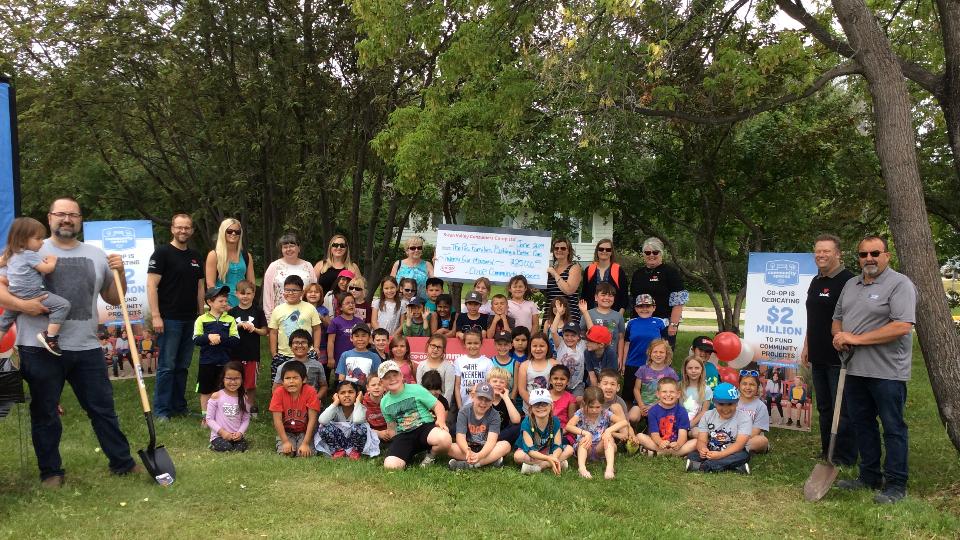 A Community Spaces 2019 Recipient
June 28, 2019
June 27, 2019
Congratulations to "The Pas Families Building a Better Community" on being one of 26 Community Spaces recipients!
Representatives from Swan Valley Co-op were on hand to present a check for $25,000.00 to 55 very happy grade one students. The day was warm and sunny, and we celebrated with a party!
The kids played on the equipment, made castles in the sand, jumped in the bouncy house & were treated to stickers, tattoos.

Davide & Gerome served up cake from the local "Grub Box", along with freezies & ice-cold drinks.
As Western Canadians, we have to make the most of every chance we get to go outside and enjoy the parks, playgrounds, community gardens and other spaces that bring us together.

Thank you, The Pas Families Building a Better Community, for your commitment to The Pas and area residents. The extraordinary work you do on a daily basis makes a difference.

Co-op is proud to be a part of bringing this project into reality. Together, we are improving the places where we meet, play, learn and share.
Swan Valley Co-op representatives:
Sharon Alford, FCL District 13 Director
Larry Terhorst, Board Member
Colin Peters, General Manager
Darrell Houge, Agro Manager, The Pas
The Pas Families Building a Better Community representatives:
Davide & Maria Novo
Jerome Conaty
Discover more: